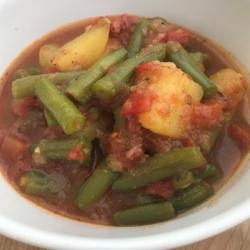 Ingredients
1 tablespoon extra-virgin olive oil
1 onion, finely chopped
4 garlic cloves, minced
2 teaspoons dried oregano
1 ½ cups water
½ teaspoon baking soda
1 ½ pounds green beans, trimmed and cut into 2-3 inch lengths
1 pound Yukon Gold potatoes, peeled and cut into 1-inch pieces
1 tablespoon tomato paste
1 (28-oz.) can diced tomatoes
¼ teaspoon pepper
3 tablespoons chopped fresh basil
2 teaspoons lemon juice
PREPARATION
Heat oil in a 5 quart pot over medium heat until simmering. Add onion and cook, stirring occasionally, until softened (3-5 minutes). Add garlic and oregano; cook until fragrant, about 30 seconds.
Add water, baking soda, green beans, and potatoes, and bring to a simmer. Reduce heat to medium-low and cook, stirring occasionally, for 10 minutes.
Stir in tomato paste, tomatoes and their juice, and pepper.
Cover pot and cook until sauce is slightly thickened and green beans and potatoes can be easily cut with the side of a fork (~40 minutes).
Stir in basil and lemon juice and serve warm or at room temperature.
ADAPTED FROM
cooksillustrated.com
Recipe modified by CHOICES Nutrition Education Program
Download the Recipe/Descargue la receta: