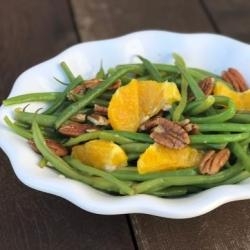 Ingredients
1 shallot, diced
¾ cup olive oil
1 tablespoon orange zest
1/3 cup fresh orange juice
1/3 cup fresh lemon juice
¼ cup honey
2 pounds French green beans
4 oranges, skinless, sectioned
½ cup pecans halves, toasted (optional)
Salt and pepper to taste
PREPARATION
In a bowl whisk together the shallot, olive oil, orange zest, orange juice, lemon juice, and honey. Set aside.
Bring a large pot of water to boiling. Fill a large bowl with ice water. Working in batches, carefully lower green beans into the boiling water. Boil beans for 4 minutes. Cool the beans quickly by plunging them into ice water.  Let them cool for a couple of minutes and then drain.
Pat beans dry with paper towels. Place beans and orange segments in a zip-top plastic freezer bag, add vinaigrette, and seal bag. Turn bag to coat beans and oranges. Chill for 2 hours.
Sprinkle pecans before serving.
ADAPTED FROM
https://www.myrecipes.com/recipe/green-beans-citrus-pecans
Recipe modified by CHOICES Nutrition Education Program
Download the Recipe/Descargue la receta: