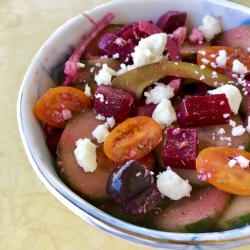 Ingredients
DRESSING:
3 tablespoons olive oil
6 tablespoons red wine vinegar
1 teaspoon dried oregano
1 teaspoon dried thyme
SALAD:
1.25 pounds beets, peeled and chopped into small chunks (about 2 ½ cups)
1 large cucumber, peeled and sliced (about 2 ½ cups)
1 pint cherry tomatoes, halved
½ red onion, thinly sliced (about 1 cup)
1 green bell pepper, cored and sliced
4 ounces pitted kalamata olives, roughly chopped (about ½ cup)
⅓ cup crumbled feta cheese
PREPARATION
In a small bowl, whisk together salad dressing ingredients. Alternatively, you can put all dressing ingredients in a mason jar, screw the lid on, and shake until combined. Set aside.
In a large salad bowl, combine all salad ingredients.
Give the dressing one quick stir and pour over salad mixture, tossing until well coated. Serve cold and enjoy!
SOURCE
lovebeets.com
Recipe modified by CHOICES Nutrition Education Program
Download the Recipe/Descargue la receta: