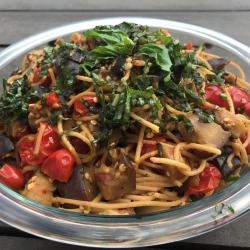 Ingredients
1 pound eggplant, cut into ½ inch pieces
1 teaspoon salt and ½ teaspoon pepper
½ pound of dry whole-wheat spaghetti
1.5 tablespoons extra-virgin olive oil
3 garlic cloves, minced
¼ teaspoon red pepper flakes
1 pint cherry tomatoes
2 tablespoons chopped fresh basil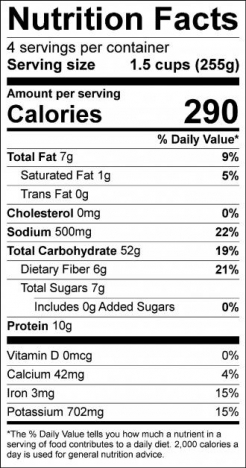 PREPARATION
1. Toss eggplant and 1 teaspoon salt together in large microwave-safe bowl. Cover and microwave until soft, about 6 minutes. Line large plate with triple layer of paper towels. Transfer eggplant to prepared plate and let drain.
2. Bring 4 quarts of water to boil in a large pot. Add pasta and cook, stirring often, until al dente. Reserve ½ cup cooking water, then drain pasta.
3. Heat 1.5 tablespoons oil in now-empty pot over medium- high heat until shimmering. Add eggplant and ½ teaspoon pepper and cook until eggplant begins to break down, about 4 minutes. Stir in garlic and pepper flakes and cook until fragrant, about 1 minute. Add tomatoes and reserved cooking water and cook until tomatoes begin to break down, about 2 minutes. Off heat, add pasta to sauce and toss to combine. Sprinkle with basil and serve.
ADAPTED FROM: cookscountry.com
Recipe modified by CHOICES Nutrition Education Program
Download the Recipe/Descargue la receta: