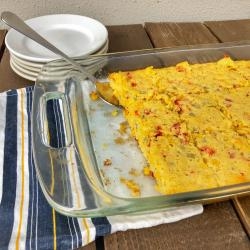 Ingredients
2 (15.25 ounce) cans of low sodium sweet yellow corn, drained
1 cup of Greek yogurt, fat free
1 red bell pepper, cored and diced
1 (4 ounce) can of diced green chilies, drained
1 tablespoon extra-virgin olive oil + extra for brushing
2 tablespoons of butter
2 large eggs, lightly beaten
½ teaspoon salt
¼ teaspoon of ground black pepper
1 (8.5 ounce) box of Jiffy corn muffin mix*
PREPARATION
Preheat oven to 350⁰F. In a large bowl, add all the ingredients exceptthe corn muffin mix and mix until well blended.
Slowly whisk in corn muffin mix until well blended.
Brush a 9x13'' pan with olive oil and add mixture. Bake in the oven for 35-45 minutes, or until top is golden brown (it's okay if it's still a little soft is inside). Serve warm or at room temperature with your favorite lean protein. Store in fridge in an airtight container for up to 4 days.
*Nutrition facts calculated using vegetarian Jiffy corn muffin mix
SOURCE
pickledplum.com/recipe/lightened-up-corn-casserole/print/
Recipe modified by CHOICES Nutrition Education Program
Download the Recipe/Descargue la receta: