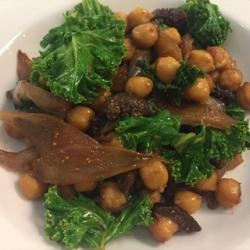 Ingredients
2 tablespoons olive oil
1 large onion, peeled and sliced into wedges
8-10 dried figs, chopped (about ½ cup)
2 cups chicken broth, low sodium
2 cans chickpeas (about 3 cups)
4 cups kale, coarsely chopped
Salt and pepper, to taste
PREPARATION
1.Heat the oil in a large sauté pan or skillet over low-medium heat. Add the onions and slowly cook over low heat for 20 minutes, until a bit caramelized.
Add the figs and mix well, then add the 2 cups chicken broth. Bring to a simmer, cook until most of the liquid has evaporated, about 15 minutes. Check the figs, if they're not soft yet, reduce the heat and add ¼ cup water and cook a little longer. (Repeat as necessary until onions are caramelized and figs are soft.)
Add the chickpeas to the pan and stir to coat. Let cook about 3 minutes to absorb some of the flavors. Season with salt and pepper to taste. Mix in the chopped leafy greens until wilted, remove from heat, and serve!
ADAPTED FROM
http://www.frugalnutrition.com/chicken-with-dried-figs-mashed-potatoes/
Recipe modified by CHOICES Nutrition Education Program
Download the Recipe/Descargue la receta: