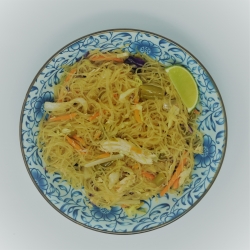 Ingredients
2 teaspoons olive oil
1 small onion, thinly sliced
4 teaspoons garlic, minced
2 cups carrots, julienned or matchstick
1 - 14/5 ounce can no salt added cut green beans, drained and cut into 1 inch pieces
3 cups cooked chicken, skinless and shredded
3 cups water
1 tablespoon soy sauce, low sodium
3 tablespoon oyster sauce
1 tablespoon chicken bouillon powder, no salt added
8 ounces bihon noodles, dry
3 cups cabbage, thinly sliced
Toppings
Calamansi or lemon
Green onions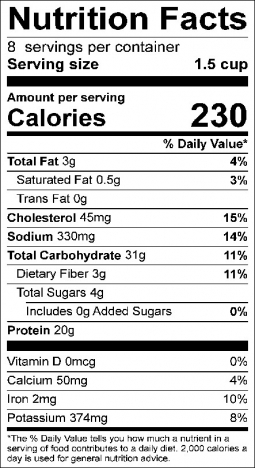 PREPARATION
Add oil to a wok or large skillet on medium heat. Once oil is hot, add the onion, garlic, carrots, and green beans; cook for 2 minutes or until onions are translucent.
Mix in chicken and continue to cook for another 2 minutes. Remove mixture off the heat and into a large bowl.
Place the wok back on medium heat and add water, low sodium soy sauce, oyster sauce, chicken bouillon, stir and bring to a boil adjust heat if needed.
Add the bihon noodles and keep mixing the noodles until all the liquid is absorbed.
Mix the cabbage back into the noodles cook for 1 minute and then add vegetable chicken mixture. Cook all together for 1 - 2 minutes and then turn off heat. Serve with calamansi or lemon.
SOURCE
RoseAustin C. Filipinp Pancit Bihon Recipe YouTube
Recipe modified by CHOICES Nutrition Education Program
Download the Recipe/Descargue la receta: