Ingredients
4 cups of sliced carrots, cooked
2 cups onion, chopped
4 teaspoons garlic, minced
1 teaspoon extra virgin olive oil
1 teaspoon black pepper
1 ½ cup vegetable broth, no sodium or low sodium
2 ½ cups water
2 tablespoons paprika
Toppings
Optional: garnish with chives & a dash of paprika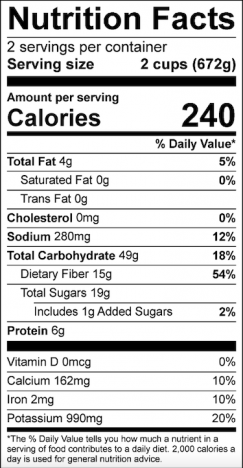 PREPARATION
In a large pot over medium heat, add olive oil and onions.

Cook until the onions are translucent, 3-4 minutes, but do not let them brown.

 Add the carrots, garlic, black pepper, and paprika and stir together.

Cook for 30 seconds, just until garlic becomes fragrant.

Add the vegetable stock and water. Cover and simmer for 15 more minutes until the carrots are very tender.

Blend when the carrots are tender, blend!

Ladle the soup into bowls and enjoy!
SOURCE
Recipe modified by CHOICES Nutrition Education Program 
Download the Recipe/Descargue la receta: