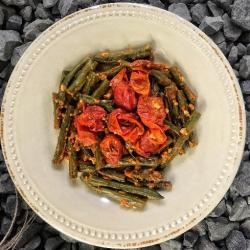 Ingredients
2 pints cherry tomatoes, reserve half
1/4 cup unsalted, roasted almonds
1 garlic clove, minced
2 tablespoons olive oil
2 tablespoons red wine vinegar
1 teaspoon paprika
1/4 teaspoon cayenne pepper
1/8 teaspoon salt
1/8 teaspoon ground black pepper
1.5 teaspoons vegetable oil
1.5 pounds green beans (around 5 cups), trimmed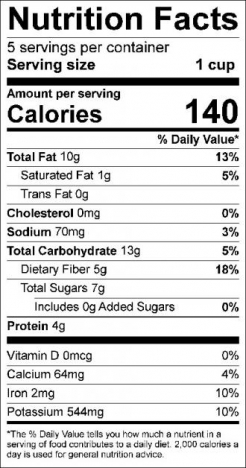 PREPARATION                                                      
1. Preheat oven to 450°F. Place tomatoes on a baking sheet and cook for 20 minutes, turning halfway. Or bake until blistered and lightly charred. Let cool.
2. Finely chop almonds in a food processor or blender. Add garlic, olive oil, vinegar, paprika, cayenne, and half of tomatoes; pulse to a coarse pesto consistency. Season with salt and pepper. Set aside.
3. In a large skillet, heat 1.5 teaspoon of vegetable oil on medium-high. Cook green beans undisturbed, until beginning to blister. Toss and continue to cook until tender. Season with salt and pepper. Remove from heat and let cool.
4. In a large bowl, combine beans with pesto and add remaining tomatoes.
SOURCE
www.epicurious.com
Recipe modified by CHOICES Nutrition Education Program
Download the Recipe/Descargue la receta: