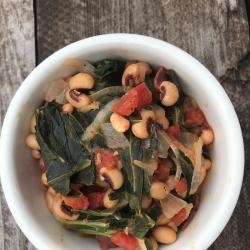 Ingredients
6 slices of reduced sodium turkey bacon, cut into 1/2-inch pieces
1 onion, halved and sliced thin
1/2 teaspoon of salt
4 garlic cloves, minced
1/2 teaspoon ground cumin
1/2 teaspoon pepper
1/4 teaspoon red pepper flakes
1 (14.5-ounce) can diced tomatoes with no salt added
1 1/2 cups low-sodium chicken broth
1 lb. collards greens, stemmed and chopped
2 (15.5-ounce) cans of black-eyed peas no salt, rinsed
1 tablespoon cider vinegar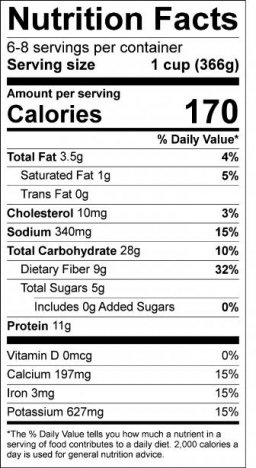 PREPARATION
Cook turkey bacon in 5 quart pot over medium heat until crisp, 5 to 7 minutes.
Add onion, salt, and cook, stirring frequently until golden brown, or about 3-4 minutes. Add garlic, cumin, pepper, and pepper flakes and cook until fragrant, about 30 seconds.
Add tomatoes and their juice. Stir in broth and bring to boil. Add greens, cover, and reduce heat to medium-low. Simmer until greens are tender about 10 minutes.
Add black-eyed peas to pot and cook, covered, stirring occasionally, until greens are silky and completely tender, about 10 minutes. Remove lid, increase heat to medium-high, and cook until liquid is reduced by one-fourth, about five minutes. Stir in vinegar. Serve.
ADAPTED FROM
CooksCountry.com
Recipe modified by CHOICES Nutrition Education Program
Download the Recipe/Descargue la receta: