Serving Size
2 enchiladas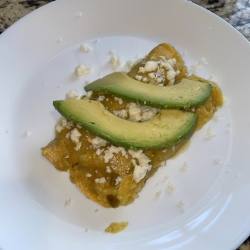 Ingredients
1 teaspoon oil
¼ onion, sliced
1 can Pinto beans, low sodium
8 corn tortillas, 6 inches
½ cup green chile enchilada sauce
½ cup cheddar cheese, low fat, shredded
½ tablespoon ground black pepper
½ tablespoon garlic powder
Toppings
Optional topping: sliced avocado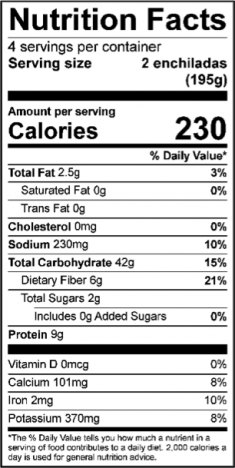 PREPARATION
Preheat oven to 350 degrees. Preheat skillet to medium-high heat and add oil. Add and cook onions until soft. Add in drained beans, pepper, garlic and cook with the onions. Start mashing until creamy.
Put beans into a tortilla and roll, lay down in a baking dish. Continue until all tortillas are rolled in the pan, top with green sauce. Cook in the oven for 20-25 minutes.
When done cooking, sprinkle cheese on top, add optional topping.
SOURCE
Recipe modified by CHOICES Nutrition Education Program
Download the Recipe/Descargue la receta: