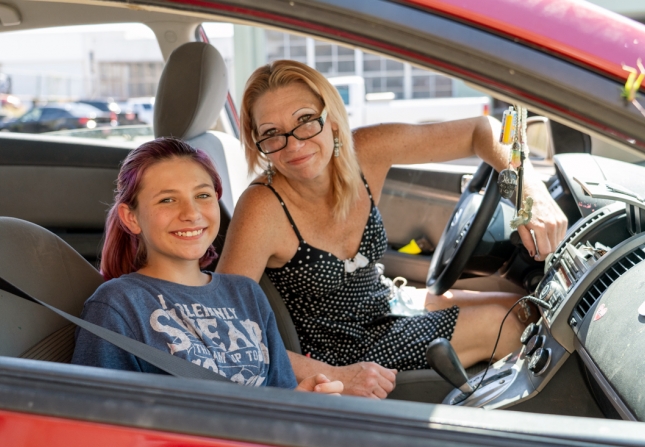 Near the train tracks in Taylor, Texas, a line of cars starts forming at Shepherd's Heart Taylor, a Central Texas Food Bank pantry partner. With more families lining up to get food from the pantry due to the pandemic, the pantry has begun distributions an hour earlier to help ease traffic congestion.
Among those in line is Shelly and her teenage daughter Victoria. Even though Victoria is 13 and is confused about everything that is going on, she does worry about not eating as much as she needs a day, she said.
These past few months have been especially tough for the single mother of four kids. After only one week of starting a new job as a server, she left when her employer had to make cuts to the staff due to COVID-19. 
Since then, she has not been able to find a job. To make her situation less stressful, family members have taken in two of her kids. In the meantime, she helps her parents with two rental houses to earn some income, but it's not enough to provide her family with basic necessities, especially after paying her utility bills.
"We collect the rent, we make sure their yards are mowed, so any little small things that need fixing, I fix them. And I make about $200 a week and that just really doesn't provide enough for food and for the water bill and all that," Shelly said.
Shelly has been using her rainy day fund to get through the pandemic, but after months without a job, she has exhausted her savings. To ensure her kids receive the nutrition they need, she has turned to Shepherd's Heart Taylor for help.
"I haven't been working.  I havent' been able to find a job or anything. So, we're just coming to get food and survive with this," Shelly said. "If I wouldn't, we'd be starving. We'd be starving. You can only live so long on sandwiches and lunch meat before you get to where you can't even eat it."
Shelly isn't alone. As Central Texas families struggle to find jobs or choose between paying for rent and food, families like Shelly's will be facing tough budgeting choices, especially with school approaching. Many school districts have pushed back the start of their school year, or are only offering remote learning to begin with, meaning parents now also have to contend with child care costs at a time when their limited resources are already strained. 
Eating nourishing meals is essential to help kids stay healthy and ready to learn this school year. Thanks to the Food Bank, families like Shelly's can count on our distribution network of food programs and more than 260 pantry partners to ensure kids are ready to start the new academic year.
Our pantry partners like Shepherd's Heart help provide essential food items. At the pantry, Shelly is grateful to receive fresh vegetables, fruit her daughter Victoria loves, protein, nonperishable food and staples. With what she receives, she has gotten creative in the kitchen and created new recipes for her family. 
"I'd like to tell [donors] thank you. We couldn't do it without them. And as soon as we get back on our feet, we'll start donating again because that's what we used to do," Shelly said.