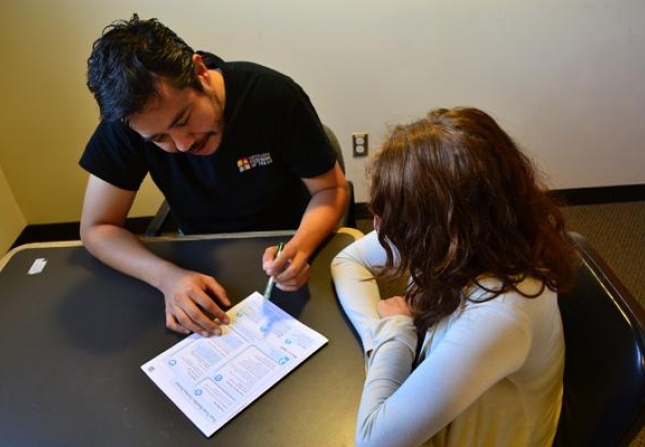 We've learned quite a bit as a partner with the Texas Health and Human Services to provide food stamp outreach and support in the community.  Whether you prefer to call it SNAP, food stamps or the Lone Star Card, let's set the record straight.
If you decide get food stamps, it doesn't take away from other eligible folks who need food stamps too. Your participation doesn't reduce how much in benefits are available to another family in need.
It doesn't have to be a long, painful process. We get it. Applying for benefits and trying to figure out how and when to enroll or re-enroll is about as exciting as doing your taxes (no offense to the accountants out there). That's where we can help. It's our job to know these forms, all the deductions you can take and the process like the back of our hand. Let us help you maximize the benefits you deserve to get. With a Food Bank expert by your side, we believe it will be worth your time.
It's not just for people who don't have a job. All types of people from all walks of life receive benefits: children, seniors, the disabled, temporarily unemployed, the homeless and certain documented legal residents may all qualify. And that brings us to our next big myth.
You can apply for your kids, without risking your application for legal residency. We understand it can be scary to ask for help when you're not a legal resident. You can help your children born in the U.S. have a healthier future by applying for food stamps on their behalf. Applying does not hurt your chances for becoming a legal resident. Call us for a confidential consultation.
You can own your home, have assets, a car and savings and still qualify for food stamps. There are some limits, which we can explain to you and help you with the application process. The point is that you don't have to wait until you are down to your last penny and have sold everything before applying for food stamps.
You don't have to apply online or at an HHSC office. Technology makes life easier… for some people. But we're not all the same. You can come to us, or we can come to you. We can do it by phone, and we can do it by email. Whether you need a little guidance and a few questions answered or help every step of the way, we're here to support you.
An extra $15 a month in your grocery budget can be much more than you think it is. While $15 is the minimum benefit you can receive each month if you qualify, most families we work with, even seniors, do receive more than that amount. But let's say all you qualify for is $15 per month. Is it worth the hassle? Absolutely! First, with us by your side, it'll be much easier to apply, and we can make sure you receive the maximum benefits you qualify for.Second, when you're enrolled in the food stamp program you can also access other programs that can save you money. Get waivers and discounts on your Austin utility bill, get a free cell phone and double the dollar amount that you spend on fruits and vegetables at select farmers markets.Do you hate filling out long forms to enroll your kids in the free school lunch program? Thanks to direct certification, you won't have to, and they'll be automatically eligible if you're eligible for food stamps.
When more eligible Central Texans receive food stamps, it makes a world of difference for us. We can serve more people who may need our food and services but do not qualify for the program. Take some time today to invest in your health by checking out this program. And, tell someone who may need help about what we can do.
Give us a call at 1-855-366-3401.