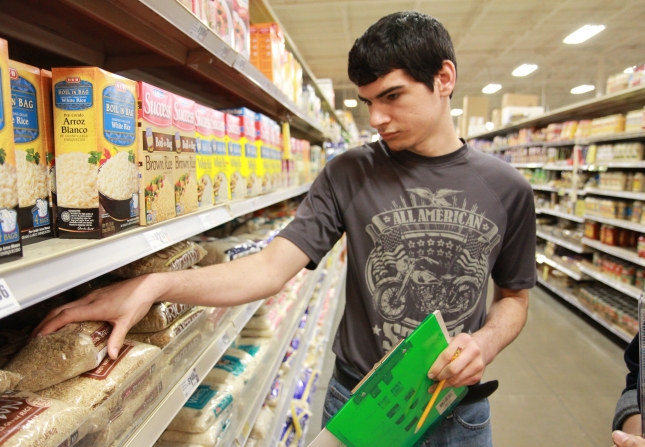 As cases of coronavirus (COVID-19) continue to rise and families shelter in place, here are a few things to keep in mind on your next grocery trip.
Plan Ahead
Planning minimizes unnecessary trips to the grocery store, helping keep you and your family safer. To make it easier, start by making a master recipe list with common recipes your family enjoys. Use MyPlate as a guide to help plan healthy meals to include all the of the food groups: grains, vegetables, fruits, dairy and protein. Learn more about MyPlate guidelines here.
Schedule time to meal plan and make a grocery list of what you need. Don't forget to check your refrigerator and pantry for food items you already have. Keep in mind that you can double the recipe and freeze the second batch for later.
Shop Smart
With work stoppages, business closures and kids at home, every dollar saved at the grocery store counts. Look for the unit price, the total cost per ounce, on the price tags to save money. The unit price is especially helpful when comparing two items to ensure you're getting more for your money.
Shop Healthy
As you shop for pantry staples, use the nutrition label to make healthier food choices. Be wary of the serving size and the percent daily value of a nutrient. If a food item has five percent or less of a nutrient per serving, it is considered low in that nutrient. If it has 20 percent or more of a nutrient per serving, it's considered high in that nutrient. Shop for food items that are low in saturated fats, sodium, and added sugars and high in fiber, vitamins and minerals.
Look for these healthy pantry staples at the store:
Dried or canned beans, peas and lentils (such as black, garbanzo, kidney, white and pinto beans; green, yellow or split peas and lentils)
Canned vegetables with no added salt (such as tomatoes, green beans and corn)
Dried or canned fruit in 100 percent fruit juice
Whole grains (such as brown rice, quinoa, oats, millet and whole-wheat pasta)
Pouches or cans of fish and chicken
Nuts, seeds, and nut butters
Olive, canola or other vegetable oils
Dried herbs and spices
Eating a well-balanced meal is essential to staying healthy, especially during the coronavirus pandemic. To help boost your immune system shop for pantry staples with:
Beta Carotene, found in sweet potatoes, spinach, carrots, mango, broccoli and tomatoes.
Vitamin C, found in citrus fruits like berries, melons, tomatoes, bell peppers and broccoli.
Vitamin D, found in fatty fish, eggs and milk
Zinc, found in wheat germ, beans and nuts
Protein, found in milk, yogurt, eggs, beef, chicken, seafood, nuts, seeds, beans and lentils.
Have a plan when you head to the store to minimize time around others and practice social distancing. Prevent the spread of germs by wiping down the cart with disinfectant wipes or use hand sanitizer. Remember to wash your hands when you return and practice food safety when you cook.