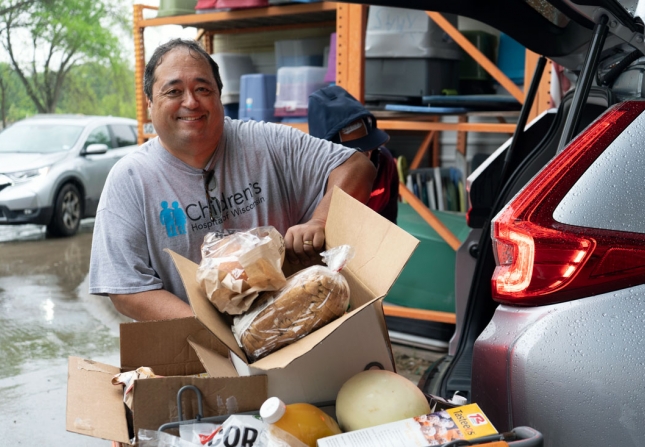 A volunteer stands in the pouring rain with an umbrella in the parking lot of the Round Rock Area Serving Center. Despite getting wet, he must direct traffic as families arrive to pick up food from the pantry.
Volunteers will load up families' cars with food instead of having individuals' walk-up to the pantry to take food home. It's a new change and a necessary one to maximize social distancing and help prevent the spread of COVID-19.
There are many new faces at the pantry. Alonso is one of them.
Like many Central Texans affected by the pandemic, Alonso lost his job. As the sole provider for his family, he's worried about making ends meet.
"The offices where I work closed due to the pandemic. They suspended work, until this passes," Meanwhile, I'm going to have to see where I get another job, which is complicated right now due to the situation."
With school closures and three kids—a 3, 11 and 16 year old—at home, Alonso's family is doing what they can to keep the lights on. That means saving as much as they can on their electric bill, water bill and other utilities.
As for their home, Alonso is trying to keep a roof over his family.
"I had to talk to the man who rents us the house and we are going to try to pay him a portion this month and then bring it up to speed," he said.
The family was able to make one last large grocery trip hoping it would be enough to get them through the pandemic. But with no end in sight to the pandemic, Alonso needed help.
"For food, obviously the children eat first. We made a large grocery trip to be able to get through this, and we're trying. But little by little, we're already running out, so we decided to come here to get help. It's the first time," Alonso said.
One of his coworkers directed him to the Food Bank's pantry partner Round Rock Serving Center. With his son in the passenger seat, the duo arrived at the pantry to get food for the first time. Volunteers loaded his car up with pantry staples as well as frozen protein and fresh produce.
With enough food to last a while, Alonso was so grateful to be able to put food on the table and hopes to pay it forward when he's back to work.
"Just as I have received now, I will also support, donate what little or what is left of what I have. With pleasure I'll give to other people who need it," Alonso said.