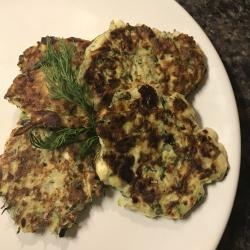 Ingredients
1 lb. zucchini, grated
6 ounces reduced fat feta cheese (about 1.5 cups)
2 scallions, minced
2 tablespoons minced fresh dill
4 large egg whites, lightly beaten
1 garlic cloves, minced
¼ cup whole wheat flour
¼ teaspoon black pepper
2 tablespoons olive oil
PREPARATION
Shred zucchini on the large holes of a grater or in a food processor with the shredding disk. Let zucchini drain in a fine-mesh strainer set over a bowl for 10 minutes. Wrap the zucchini in paper towels and squeeze out the excess liquid.
Combine the dried zucchini, feta, scallions, dill, eggs, garlic, and pepper together in a medium bowl. Sprinkle the flour over the mixture and stir until uniformly incorporated.
Heat 1 tablespoons of the oil in a 12-inch nonstick skillet over medium heat until shimmering. Drop 2-tablespoon-sized portions of the batter into the pan, use the back of a spoon to press the batter into 2-inch-wide fritters (you should fit about 6 fritters in the pan at a time). Fry until golden brown on both sides, 2 to 3 minutes per side.
Transfer the fritters to a paper towel-lined baking sheet. Wipe the skillet clean with paper towels. Return the skillet to medium-high heat, add the remaining 1 tablespoons oil, and repeat with the remaining batter. Serve warm or at room temperature.
ADAPTED FROM
cooksillustrated.com
Recipe modified by CHOICES Nutrition Education Program                                                                                                                                                
Download the Recipe/Descargue la receta: