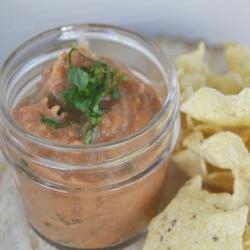 Ingredients
¼ cup low-sodium, fat-free canned refried beans, or mashed pinto beans, unsalted
1 tablespoon salsa
1 teaspoon chopped fresh cilantro
1 teaspoon minced scallion
1 ounce baked tortilla chips (about 10)
PREPARATION
Combine the refried beans, salsa, cilantro, scallions in a bowl and mix well. Serve with baked tortilla chips.
*If using dried beans, rinse beans and soak them in water over night in the refrigerator. Drain off the water you used to soak the beans and add cold water back to them. Use a ratio of 1:3, so if you have 2 cups of beans, use 6 cups of water. Bring the beans to a boil and then reduce them down to a very slow simmer for 1-1 ½ hours. One 15-oz can of beans equals 1 ½ cups cooked beans.
NUTRITIONAL INFORMATION PER SERVING
Calories 130, Total Fat 2.5g, Carbohydrates 22g, Fiber 4g, Protein 5g, Sodium 210mg, Cholesterol 0mg.
SOURCE (OR ADAPTED FROM)
 Delish.com/zesty-bean-dip-chips-recipe-9884
 Recipe modified by CHOICES Nutrition Education Program
Download the Recipe/Descargue la receta: