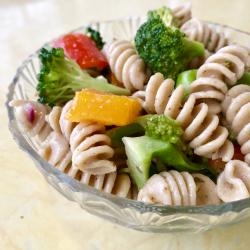 Ingredients
SALAD
8 ounces dry whole wheat rotini pasta
2 medium red or orange bell peppers, chopped
1 pound fresh or frozen broccoli, chopped (about 4 cups)
DRESSING
2 cloves garlic, minced
2 teaspoons Dijon mustard
¼ cup red wine vinegar
¼ cup rice vinegar or any other vinegar of choice
¼ cup olive oil
1 teaspoon dried oregano
½ teaspoon salt
½ teaspoon ground black pepper
PREPARATION
Cook pasta according to package directions. Drain and chill.
While pasta is cooking, prepare the dressing. In a bowl, combine garlic, mustard, vinegars, oil, oregano, salt, and pepper. Whisk together using a whisk or fork and set aside. Alternatively, you can add all ingredients to a mason jar, screw the lid on, and shake until combined.
In a bowl, mix cooked rotini, bell pepper, and broccoli together. Give the dressing another mix and add to the salad mixture, tossing to combine.
Refrigerate for at least one hour before serving. Serve cold and enjoy!
NUTRITIONAL INFORMATION PER SERVING
Calories 260, Total Fat 12g, Carbohydrates 32g, Fiber 3g, Protein 9g, Sodium 270mg, Cholesterol 0mg.
SOURCE
fns.usda.gov
Recipe modified by CHOICES Nutrition Education Program
Download the Recipe/Descargue la receta: