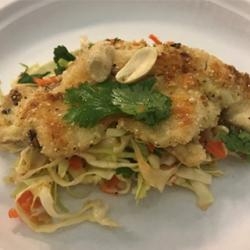 Ingredients
1 head medium cabbage, shredded (about 6 cups)
2 medium carrots, large shred (about 1.5 cups)
½ cup unsalted peanuts, toasted and crushed
4 scallions, sliced thin
½ cup fresh cilantro leaves, whole
½ cup fresh mint leaves, chopped
1 pound chicken breast, thinly sliced, 2 inch wide
½ cup cornstarch
2 ½ tablespoon of corn meal
Pepper, to taste
4 tablespoon canola oil
½ tablespoon canola oil
2 medium garlic cloves, minced (about 2 teaspoons)
5 tablespoons rice vinegar, natural (no sodium, no sugar)
1 teaspoon fish sauce
1 teaspoons Asian chili sauce
PREPARATION
Preheat the oven to 400 degrees F. Prep baking tray lining it with parchment paper or foil. Combine all of the salad ingredients in a large bowl and set aside.
Prep the chicken by thinly slicing it or using a meat tenderizer, smooth side, to thin the chicken. Toss the cornstarch and corn meal together in a shallow dish. Pat the chicken dry and season with pepper, to taste. Coat chicken thoroughly with the cornstarch mixture.
Preheat skillet over medium heat and add 2 tablespoons of oil until hot. Carefully lay the chicken in the skillet and cook 2-3 minutes per side until golden brown. Transfer to prepared baking tray. Repeat with remaining oil and chicken pieces. Discard any oil leftover and wipe out the skillet with a paper towel. Bake browned chicken for 10-12 minutes or until internal temperature reads 165 degrees F.
Add ½ tablespoon of oil to the skillet and return to medium heat until hot. Add the garlic and cook until fragrant, about 30 seconds. Whisk in the vinegar, fish sauce, and chili sauce, and bring to a brief simmer, about 15 seconds. Remove from heat and pour over salad and toss.
Divide salad between four plates and arrange the chicken on top.
NUTRITIONAL INFORMATION PER SERVING
Calories 520, Total Fat 28g, Carbohydrates 36g, Fiber 7g, Protein 33g, Sodium 270mg, Cholesterol 85mg
SOURCE (OR ADAPTED FROM)
Americas Test Kitchen—Recipe modified by CHOICES Nutrition Education Program
Download the Recipe/Descargue la receta: