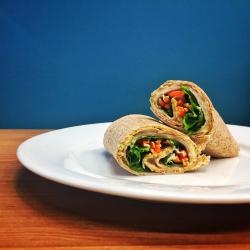 Ingredients
1 whole wheat tortilla
2 tablespoons hummus, plain or roasted red pepper
¼ cup fresh spinach
2 slices (1 ounce) sliced turkey breast, low sodium
2 tablespoons shredded carrots
PREPARATION
Spread 2 tablespoons hummus over entire surface of tortilla.
Top hummus with spinach. Place 2 slices of turkey on half of the tortilla.
Sprinkle 2 tablespoons shredded carrots on top of the turkey.
Roll the tortillas starting at the edge where you placed the turkey.
Use a serrated knife to cut the wrap in half.
NUTRITIONAL INFORMATION PER SERVING
Calories 140, Total Fat 6g, Carbohydrates 13g, Fiber 0g, Protein 9g, Sodium 430mg
SOURCE 
CHOICES Nutrition Education Program
Download the Recipe/Descargue la receta: