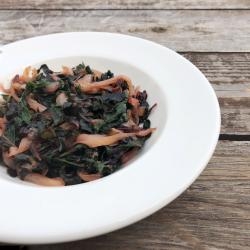 Ingredients
1 pound rainbow Swiss chard
2 tablespoons olive oil
2 large onions, thinly sliced
1 teaspoon garlic powder
½ teaspoon salt
½ teaspoon pepper

PREPARATION
Remove stems from Swiss chard and thinly chop.
Heat skillet on low and add oil. 
Add onions to the pan, stirring every few minutes, for 10 minutes. While onions cook, chiffonade* the Swiss chard. 
Add stems to the pan and cook for 3 minutes. 
Add Swiss chard to the pan and cook for 5 minutes, stirring every few minutes, or until Swiss chard wilts and onions are golden brown and tender.  
Add garlic powder, salt, and pepper and stir to combine. Serve warm. 
Can be stored in an airtight container in the refrigerator for 3-4 days. 
*Note: The chiffonade cut is used to produce fine threads of leafy fresh herbs and other greens. To chiffonade Swiss chard, stack several leaves, roll them width-wise into a tight cylinder, and slice cross-wise with a sharp knife, cutting the leaves into thin strips.



SOURCE 
https://dontwastethecrumbs.com 
Recipe modified by CHOICES Nutrition Education Program
 
Download the Recipe/Descargue la receta: