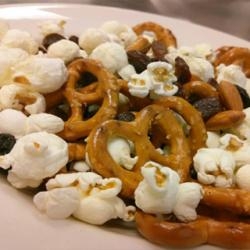 Ingredients
½ cup popped, light popcorn
1 oz or 15 unsalted, bite-size
pretzels (about one handful)
2 tablespoon raisins
2 tablespoon unsalted peanuts
(Or in case of nut allergy, use roasted unsalted soy nuts, sunflower seeds or pumpkin seeds)
PREPARATION
Put the ingredients in a sandwich bag or small bowl.
Toss gently and enjoy!
Try this!  Look for a variety of dried fruits in your store:  apples, cranberries, peaches, apricots, pineapple, pears, or bananas.
Your turn:  What other dried fruits or nuts might you mix up for a tasty snack mix?
NUTRITIONAL INFORMATION PER SERVING
Calories 288, Total Fat 9g, Carbohydrates 45g, Fiber 4g, Protein 8g, Sodium 431mg, Cholesterol 0mg
SOURCE (OR ADAPTED FROM)
CHOICES Nutrition Education Program
Download the Recipe/Descargue la receta: