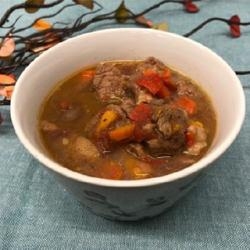 Ingredients
2 lbs. of beef stew meat, diced into 1 inch cubes
1/3 cup all-purpose flour
1 onion, chopped
4 garlic cloves, crushed (or 1 tablespoon minced garlic)
1 large sweet potato, peeled and diced into 2-inch pieces
2 cups of red or purple regular or baby potatoes
4 large carrots, sliced
1 red pepper, de-seeded and diced
1 1/2 cups beef broth, low sodium
1 beef bouillon cube, crushed
1 tsp milk paprika
1/2 tsp salt
1/2 tsp ground black pepper
2 bay leaves
Toppings
4 tsp. fresh chopped parsley or cilantro for garnish
Preparation
Place the meat and flour into a 6qt slow cooker bowl. Stir to coat meat and add the rest of the ingredients except for the bay leaves and parsley. Stir all ingredients together and place bay leaves on top.
Cover and cook on low heat setting for 8-10 hours on high setting or for 4-6 hours on low.
Garnish with parsley or cilantro
Enjoy!
Source
fruitsandveggiesmorematters.org
Recipe modified by CHOICES Nutrition Education Program 
Download the Recipe/Descargue la receta: