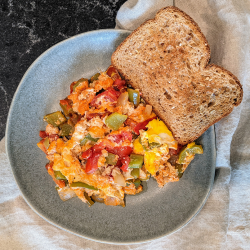 Ingredients
1 medium onion, chopped
4 Roma tomatoes, chopped
2 green bell peppers, chopped
1 tablespoon of olive oil
1 tablespoon of tomato paste
1 egg
1/3 cup of egg whites
1 teaspoon of paprika
Toppings
1 slice of whole grain bread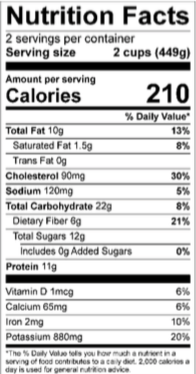 PREPARATION
Heat a large pan over medium heat.
Add olive oil, onion, and sauté for 3 minutes or until golden.
Add chopped tomatoes, bell peppers, paprika and salt and cook for 5 minutes while stirring regularly.
Add egg and egg white on top of vegetables and cover and let cook for 5-10 minutes.
When egg looks cooked, remove from heat and serve in plates with optional whole grain bread on the side.
ADAPTED FROM
walderwellness.com
Recipe modified by CHOICES Nutrition Education Program
Download the Recipe/Descargue la receta: