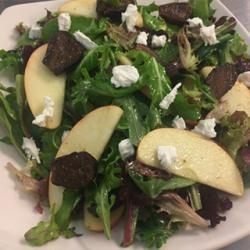 Ingredients
15 dried figs, halved (about ¾ cup)
1 tablespoon olive oil
2 tablespoons water
1 medium apple, sliced thin (like Gala, Pink Lady, or Honeycrisp)
4 ounces goat cheese, crumbled
5 ounces salad greens (about 4 cups)
Dressing:
2 tablespoons white wine vinegar
½ tablespoon honey
1 teaspoon Dijon mustard
1 teaspoon onion, minced
1 tablespoon olive oil
Salt and pepper, to taste
PREPARATION
In a small frying pan, sauté figs with the olive oil and water until all of the liquid is absorbed, stirring occasionally.
Scatter figs, apples and goat cheese over your greens.
For the dressing, combine all ingredients in a small bowl, whisk vigorously and pour over your salad.
Optional: Add spicy or sweet pecans, honey roasted sunflower seeds, or grilled chicken if desired.
ADAPTED FROM
tastykitchen.com/recipes/salads/sauteed-fig-goat-cheese-salad
Recipe modified by CHOICES Nutrition Education Program
Download the Recipe/Descargue la receta: