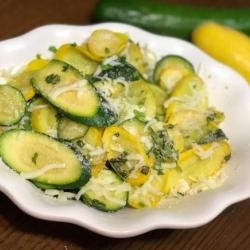 Ingredients
1 tablespoon olive oil
2 medium cloves of garlic, minced
2 zucchinis, sliced into coins
½ cup low fat mozzarella, shredded
2 tablespoons basil, fresh
2 tablespoons Parmesan cheese, grated
PREPARATION
 Place a medium sauté pan over medium heat and add olive oil. After 2-3 minutes, add garlic and cook for 1 minute.
 Add the green and yellow zucchini and sauté, stirring occasionally until they are tender and bright in color, about 3-4 minutes.
 Remove from heat and top with basil leaves and shredded mozzarella.
 Garnish with grated parmesan cheese
 Enjoy!
SOURCE
http://www.comidakraft.com/sp/recetas/salteado-de-calabacitas-frescas-110590.aspx
Recipe modified by CHOICES Nutrition Education Program
Download the Recipe/Descargue la receta: