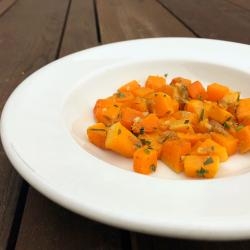 Ingredients
1 tablespoon extra-virgin olive oil
1 tablespoon unsalted butter
5 cups butternut squash, peeled and diced into ½-inch cubes *
1 teaspoon salt, divided
1 tablespoon finely grated fresh ginger
1 tablespoon minced garlic
½ teaspoon ground cumin
¼ teaspoon ground coriander
Pinch ground cinnamon
Pinch cayenne
2 teaspoons cilantro, chopped
*Kitchen tip: To easily cut squash, first slice the top and bottom off. Poke holes in the squash using a fork. Using a microwave-safe plate, microwave the squash for 3-4 minutes. Let the squash cool slightly. Peel using a vegetable peeler, cut in half scoop out the seeds, and chop into 1-inch cubes.
PREPARATION
Heat olive oil in a large sauté pan over medium-high heat.
Add butternut squash and ¼ teaspoon of salt. Cook, stirring occasionally until squash is lightly browned and tender, about 15 minutes.
Push squash to one side of the pan and add butter to the cleared space. When butter has melted, add ginger, garlic and remaining salt. Cook for 1 to 2 minutes.
Stir in cumin, coriander, cinnamon, and cayenne and cook until fragrant, about 30 seconds.
Stir the flavorings into the squash, adjust the salt to taste and garnish with cilantro.
SOURCE
Fine Cooking by Julie Grimes Bottcher
Recipe modified by CHOICES Nutrition Education Program
Download the Recipe/Descargue la receta: