Cook Time
20 - 25 minutes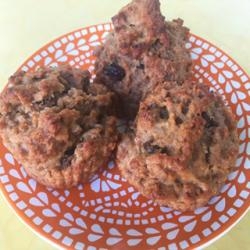 Ingredients
½ cup vegetable oil
3 cups Raisin Bran cereal
1 ½ cup of 1% milk
1 cup whole wheat flour
1 cup all-purpose flour
4 teaspoons baking powder
1 teaspoon ground cinnamon
¼ teaspoon salt
2 large eggs, lightly beaten
½ cup packed dark brown sugar
PREPARATION
Preheat oven to 400°F. Lightly oil a 12-cup standard muffin tin, or use paper liners.
In a medium bowl, combine cereal and milk; let stand until softened, about 5 minutes.
In a small bowl, whisk together flours, baking powder, cinnamon and salt.
Stir oil, egg, and sugar into cereal mixture. Combine with flour mixture.
Pour ¼ cup in each baking sheet cup. Bake until a toothpick inserted in the center of a muffin comes out clean, for about 20-25 minutes.
Cool in tin 5 minutes, then turn to a wire rack; let cool completely. Store up to 5 days at room temperature in a resealable plastic bag.
NUTRITIONAL INFORMATION PER SERVING
Calories 190, Total Fat 8g, Carbohydrates 27g, Fiber 2g, Protein 4g, Sodium 210mg
SOURCE (OR ADAPTED FROM)
http://www.marthastewart.com/338280/raisin-bran-muffins
Recipe modified by CHOICES Nutrition Education Program
Download the Recipe/Descargue la receta: