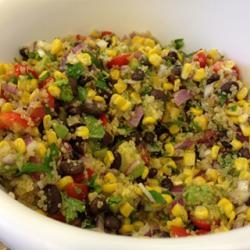 Ingredients
1 15-ounce can of low-sodium black beans, drained and rinsed*
2 small avocados, pitted and cut into cubes (about 1 cup)
1 15-ounce can low-sodium corn, drained and rinsed
1 pint cherry tomatoes, quartered
1 cup chopped red onion
2 cups cooked quinoa**
½ a bunch cilantro or flat-leaf parsley, chopped
1 Tablespoon olive oil
Zest of 1 lime
Juice of 2 limes
½ teaspoon salt
*To cook quinoa, rinse one cup of uncooked quinoa and drain. Place rinsed quinoa in a medium sized pot. Add 1¼ cup water and bring to a boil. Once boiling, lower heat to low, cover quinoa and let simmer for 25 minutes. Remove from heat and let sit for 5 minutes. Remove lid and fluff quinoa with a fork.
*If using dried beans, rinse beans and soak them in water over night in the refrigerator. Drain off the water you used to soak the beans and add cold water back to them. Use a ratio of 1:3, so if you have 2 cups of beans, use 6 cups of water. Bring the beans to a boil and then reduce them down to a very slow simmer for 1-1 ½ hours. Now your beans are ready to use in any way you see fit. One 15-oz can of beans equals 1 ½ cups cooked beans.
PREPARATION
In a large bowl, combine black beans, avocados, corn, tomatoes, red onion, quinoa, cilantro or parsley, olive oil and lime zest.
Mix in lime juice and salt. Serve warm or chilled.
NUTRITIONAL INFORMATION PER SERVING
Calories 98, Total Fat 3g, Saturated Fat 0.1g, Carbohydrates  13g, Fiber  3g, Protein  3g, Sodium  147mg
SOURCE (OR ADAPTED FROM)
 Healthy Lunch Time Challenge Cookbook, letsmove.gov/sites/letsmove.gov/files/pdfs/healthy-lunch-challenge-cookbook.pdf
 Recipe modified by CHOICES Nutrition Education Program
Download the Recipe/Descargue la receta: