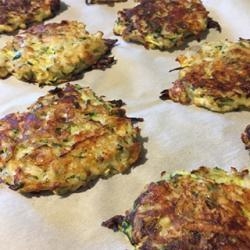 Ingredients
3 cups grated russet potatoes, with skin
2 cups grated zucchini
½ cup grated onion
2 tbsp. minced fresh parsley
2 garlic cloves, minced
1 cup shredded reduced fat cheese such as Monterrey jack
4 egg whites
½ tsp. salt
½ tsp. pepper
Cooking spray
PREPARATION
Preheat oven to 400 degrees F. Spray a large baking sheet, liberally, with vegetable cooking spray or line with parchment paper. Set aside
Lay the grated potatoes, grated zucchini and grated onion on 2 kitchen towels. Bring the corners of the towels together and squeeze out the moisture from the vegetables. Place the vegetables in a large bowl. Add the parsley, garlic, cheese, egg whites, salt, and pepper. Mix well until all ingredients are combined.
Preheat a 12-inch nonstick skillet to medium heat. Using a ¼ measuring cup add the vegetable mixture to the pan. Using a spatula, press the mixture evenly into the pan.
Cook for 4 minutes and flip and cook for another 4 minutes. Place the pancakes, onto the prepared baking sheet.
Bake for 20 to 25 minutes or until the top of the pancake starts to brown and the edges are crispy.
NUTRITIONAL INFORMATION PER SERVING
Calories 160, Total Fat 4g, Carbohydrates 15g, Fiber 1g, Protein 16g, Sodium 420mg
SOURCE (OR ADAPTED FROM)
foodnetwork.com/recipes/giada-de-laurentiis/crispy-zucchini-and-potato-pancakes-recipe.html
Recipe modified by CHOICES Nutrition Education Program
Download the Recipe/Descargue la receta: