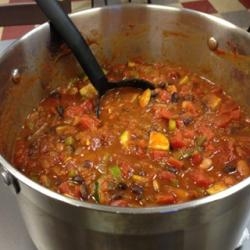 Ingredients
1 tablespoon olive oil
1 medium yellow onion, chopped
4 cloves garlic, roughly chopped
1 medium green bell pepper, seeded and chopped
2 teaspoons cumin
¾ teaspoon ancho chili powder
½ teaspoon salt
½ teaspoon ground black pepper
1 medium zucchini, diced
¾ cup (6 ounces) tomato paste
1 can (15.5 ounces) low-sodium black beans, drained and rinsed*
1 can (15.5 ounces) low-sodium pinto beans, drained and rinsed*
1 can (14.5 ounces) diced tomatoes with green chilies
1 can (14.5 ounces) low-sodium diced tomatoes
2 cups water (or broth)
Toppings
Cilantro, chopped for garnish
*If using dried beans, rinse beans and soak them in water over night in the refrigerator. Drain off the water you used to soak the beans and add cold water back to them. Use a ratio of 1:3, so if you have 2 cups of beans, use 6 cups of water. Bring the beans to a boil and then reduce them down to a very slow simmer for 1-1 ½ hours. Now your beans are ready to use in any way you see fit. One 15-oz can of beans equals 1 ½ cups cooked beans.
PREPARATION
In a large stock pot, heat oil over medium-high heat. Add onion, garlic and green bell pepper; cook, stirring frequently until onion is translucent and garlic is soft, about 4 minutes.
Add cumin, chili powder, salt and pepper and cook until spices are fragrant, about 1 minute.
Add zucchini and tomato paste; cook, stirring frequently, until tomato paste is deep brick red, about 3 minutes.
Stir in black and pinto beans and both cans of diced tomatoes. Add 2 cups water (or broth if using) and bring mixture to a boil. Reduce heat to a medium simmer and cook until zucchini is soft and tender, about 20 minutes.
NUTRITIONAL INFORMATION PER SERVING
Calories 225, Total Fat 2.9g, Saturated Fat 0.4g, Carbohydrates  39.7g, Fiber  12.3g, Protein  11.6g, Sodium  236mg, Cholesterol  0mg
SOURCE (OR ADAPTED FROM) www.foodnetwork.com
Recipe modified by CHOICES Nutrition Education Program
Download the Recipe/Descargue la receta: