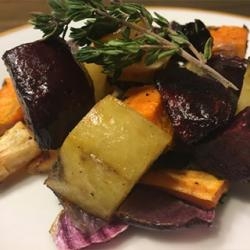 Ingredients
1 bunch (1 lb.) beets, trimmed and scrubbed (2 cups)
1 large sweet potato, peeled and cubed (2 cups)
1 large parsnip, peeled and cubed (2 cups) (if parsnip is not available, substitute with carrots)
1 large russet potato, peeled and cubed (2 cups)
½ red onion
½ teaspoon garlic powder
1 teaspoon dried thyme leaves
¼ teaspoon salt
¼ teaspoon pepper
2 tablespoons olive oil
You will also need:
Foil lined baking sheet
PREPARATION
Preheat oven to 425 degrees F. Line a cookie sheet with foil or parchment paper.
Cut vegetables into 1 ½ inch chunks. Toss vegetables in a large bowl with garlic powder, thyme and oil until evenly coated.
Spread vegetables out evenly on the cookie sheet in a single layer. Sprinkle vegetables with salt and pepper.
Roast vegetables in the oven for about 45-50 minutes, stirring once halfway through cooking, until vegetables are tender and starting to turn golden. Serve hot.
NUTRITIONAL INFORMATION PER SERVING
Calories 110, Total Fat 3g, Carbohydrates 20g, Fiber 4g, Protein 2g, Sodium 100mg, Cholesterol 0mg.
SOURCE
http://toriavey.com/toris-kitchen/2011/04/oven-roasted-root-vegetables/
Recipe modified by CHOICES Nutrition Education Program
Download the Recipe/Descargue la receta: