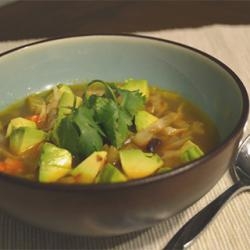 Ingredients
2 tablespoons canola oil
1 medium sized yellow onion, chopped (about 2 cups)
1 cup chopped carrots
1 cup chopped celery
1 green bell pepper, chopped
4 large cloves garlic, minced
6 cups sliced cabbage
1 tablespoon tomato paste, no salt added
1 tablespoon minced chipotle chiles in adobo sauce
1 teaspoon ground cumin
1 teaspoon chili powder
½ teaspoon ground coriander
4 cups low-sodium chicken broth
4 cups water
2 (15 ounce) cans low-sodium black beans
1 teaspoon salt
Toppings
Cilantro
Lime juice
Crumbled queso freso
Non-fat Greek yogurt
Diced avocado
PREPARATION
Heat oil in a large soup pot (8 quartz or bigger) over medium heat. Add onion, carrots, celery, bell pepper and garlic and cook about 5-7 minutes (stirring frequently), until slightly softened.
Add cabbage (stir occasionally) and cook until softened for about 5 more minutes. Add tomato paste, chipotle, cumin, chili powder, and coriander; cook, stirring for 1 minute.
Add broth, water, beans and salt. Cover and bring to a boil over high heat. Reduce the heat, and simmer partially covered until vegetables are tender for about 10 minutes. Removed from heat and serve with toppings.
NUTRITIONAL INFORMATION PER SERVING
Calories 120, Total Fat 3g, Carbohydrates 19g, Fiber 6g, Protein 7g, Sodium 270mg, Cholesterol 0mg
SOURCE (OR ADAPTED FROM)
eatingwell.com/recipe/256474/mexican-cabbage-soup/
Recipe modified by CHOICES Nutrition Education Program
Download the Recipe/Descargue la receta: