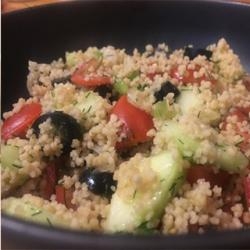 Ingredients
1 cup reduced sodium chicken broth
¾ cup uncooked plain whole grain wheat couscous
1 cup cherry tomatoes, quartered
1 cup cucumber, cubed
½ cup black olives, sliced
¼ cup green onions, chopped
2 tablespoons fresh dill, minced
2 tablespoons lemon juice
1 tablespoon olive oil
2 tablespoons reduced fat feta cheese
PREPARATION
In a saucepan, heat broth to boiling. Stir in couscous and remove from heat. Cover and let stand for 5 minutes.
In a large bowl, place tomatoes, cucumber, olives, onions and dill. Stir in couscous.
 In a small bowl, beat lemon juice and oil until well blended. Pour over mixture and toss.
 Before serving, sprinkle with cheese.
SOURCE  
bettycrocker.com
Recipe modified by CHOICES Nutrition Education Program
Download the Recipe/Descargue la receta: