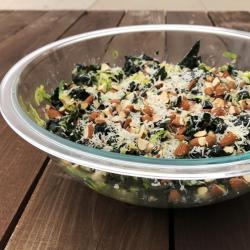 Ingredients
DRESSING:
½ cup fresh lemon juice
¼ cup olive oil
2 tablespoons Dijon mustard
2 tablespoons minced shallot
3 small garlic cloves, finely grated
½ teaspoon sea salt
½ teaspoon black pepper
SALAD:
2 bunch Tuscan kale, center stem discarded, leaves sliced thinly
12 ounces Brussels sprouts, trimmed and shredded
⅓ cup almonds with skins, toasted and coarsely chopped
1 cup grated Pecorino, Parmesan or Romano cheese
PREPARATION
Combine lemon juice, olive oil, Dijon mustard, shallot, garlic, salt, and pepper in a mason jar. Shake vigorously until combined; set aside to let flavors meld.
Mix the thinly sliced kale and shredded Brussels sprouts in a large bowl.
Add the dressing, cheese and almonds to the Brussels sprouts and kale mixture and toss to coat.
SOURCE
http://www.thegardenofeating.org
Recipe modified by CHOICES Nutrition Education Program
Download the Recipe/Descargue la receta: