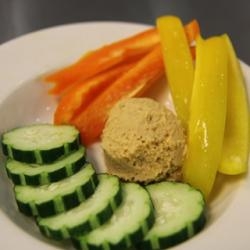 Ingredients
3 cups cooked chickpeas, (from 1 cup dry chickpeas* or two 15-oz cans no salt added chickpeas)
2 large cloves garlic, roughly chopped
1/3 cup tahini
¼ cup fresh lemon juice, (about 2 lemons)
1 teaspoon salt
½ teaspoon paprika
5-6 drops hot sauce (optional)
*If using dried beans, rinse beans and soak them in water over night in the refrigerator. Drain off the water you used to soak the beans and add cold water back to them. Use a ratio of 1:3, so if you have 2 cups of beans, use 6 cups of water. Bring the beans to a boil and then reduce them down to a very slow simmer for 1-1 ½ hours. Now your beans are ready to use in any way you see fit. One 15-oz can of beans equals 1 ½ cups cooked beans.
PREPARATION
1.Place all ingredients in a food processor or blender and process until combined.
Add 4-6 tablespoons of water to reach desired consistency. Process until smooth, scraping down the bowl as needed.
Serve with freshly cut vegetables or whole wheat pita chips.
SOURCE
The Oh She Glows Cookbook
Recipe modified by CHOICES Nutrition Education Program
Download the Recipe/Descargue la receta: