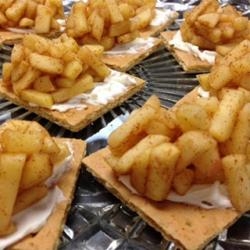 Ingredients
5 whole graham crackers
10 teaspoons light cream cheese
2 apples, peeled, cored, and chopped
1 teaspoon Splenda® Brown Sugar
Blend or regular brown sugar
1 teaspoon lemon juice
½ teaspoon cinnamon
PREPARATION
Carefully break graham crackers into 10 squares.
Spread 1 teaspoon cream cheese on each square.
In a microwave-safe bowl, combine chopped apples, lemon juice, Splenda® Brown Sugar Blend, and cinnamon. Mix well.
Microwave apple mixture for one minute. Take out and stir. Put apple mixture back in microwave for another minute. Take out and stir again.
Top each graham cracker square with 2 tablespoons apple mixture.
NUTRITIONAL INFORMATION PER SERVING
Calories 88, Total Fat 2.4g, Carbohydrates 15.4g, Fiber 2g, Protein 2g, Sodium 70mg, Cholesterol 0mg
SOURCE (OR ADAPTED FROM)
superhealthykids.com/healthy-kids-recipes/3-minute-apple-pie.php
Recipe modified by CHOICES Nutrition Education Program
Download the Recipe/Descargue la receta: