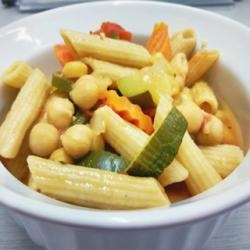 Ingredients
1 cup onion, diced
3 garlic cloves, minced
1 tbsp. of canola or olive oil
1 can low sodium vegetable or chicken broth
1 can dice tomatoes, low sodium
2 ½ cups water
1 can (15.5 ounces) low sodium garbanzo bean, drained and rinsed
1 cup sliced carrots
1 teaspoon Italian seasoning
¼ teaspoon salt
1 cup whole wheat pasta (rotini, shells, etc.)
1 small zucchini, sliced
PREPARATION
Heat oil in a large saucepan over medium low. Add onion and garlic and cook over medium low for 5 minutes.
Add broth, tomatoes, and water to saucepan. Stir in garbanzo beans, carrots and seasoning and cook for about 5 minutes.
Stir in pasta and zucchini and simmer for about 10 minutes or until pasta is tender.
Serve and enjoy.
NUTRITIONAL INFORMATION PER SERVING
Calories 100, Total Fat 3g, Carbohydrates 15g, Fiber 4g, Protein 5g, Sodium 310mg, Cholesterol 0mg
SOURCE 
https://spendsmart.extension.iastate.edu/recipe/garbanzo-bean-soup/
Recipe modified by CHOICES Nutrition Education Program
Download the Recipe/Descargue la receta: