Cook Time
1 hour 10 minutes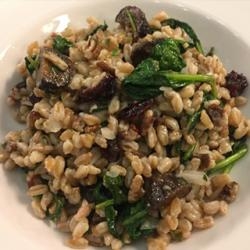 Ingredients
1 cup farro or barley
1 cup water
1 cup vegetable stock, low sodium
½ cup pecans, chopped
3 tablespoons lemon juice
1 tablespoon Dijon mustard
1 tablespoon honey
½ teaspoon coarse salt
½ teaspoon black pepper
2 tablespoons extra virgin olive oil
3 cups baby spinach, chopped
½ cup dried figs, stems removed and quartered (about 10 figs)
¼ cup dried cranberries
¼ cup chopped fresh parsley
¼ cup minced onion
PREPARATION
In a medium pot place farro, water and stock and bring to a boil. Cover, reduce heat and simmer on low for one full hour, or according to package instructions.
While farro is cooking, place pecans in a dry pan and heat over medium to toast, about 5 minutes or so. Set aside.
Prepare dressing by combining lemon juice, mustard, honey, salt and pepper in a small bowl. Whisk to combine and slowly add oil while whisking. Keep refrigerated until ready to use.
Once the farro is done cooking, remove lid, add spinach and cook on medium for five minutes.
Add figs, cranberries, onion, and parsley and stir until combined.
Stir in pecans and dressing. Serve warm or refrigerate for an hour and serve cool.
SOURCE
afamilyfeast.com/wheat-berry-salad-dried-figs-whole-foods-market-50-gift-card-giveaway/
Recipe modified by CHOICES Nutrition Education Program
Download the Recipe/Descargue la receta: