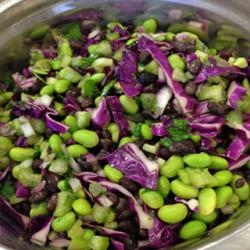 Ingredients
1 (10-ounce) package frozen shelled edamame, thawed
1 (15-ounce) can low-sodium black beans, drained and rinsed*
½ cup chopped red onion
2 cups thinly sliced celery (about 3 medium stalks)
½ cup cilantro, finely chopped (optional)
2 cups of your favorite cabbage, chopped
Dressing:
3 tbsp rice vinegar
2 tbsp canola oil
1 tbsp low-sodium soy sauce
1 tsp sesame oil
1 tsp honey
**If using dried beans, rinse beans and soak them in water over night in the refrigerator. Drain off the water you used to soak the beans and add cold water back to them. Use a ratio of 1:3, so if you have 2 cups of beans, use 6 cups of water. Bring the beans to a boil and then reduce them down to a very slow simmer for 1-1 ½ hours. Now your beans are ready to use in any way you see fit. One 15-oz can of beans equals 1 ½ cups cooked beans.
PREPARATION
In large bowl, mix together all the ingredients.
In a small bowl, whisk together the dressing ingredients, then add to the
 vegetable mixture.
Chill until cold, about 1 hour. Enjoy!
SOURCE
Recipe modified by CHOICES Nutrition Education Program
Download the Recipe/Descargue la receta: