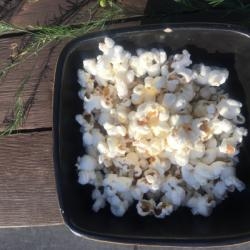 Ingredients
½ cup popcorn kernels
1 ½ tablespoon coconut oil
1 teaspoon sea salt
PREPARATION
Add the oil and one kernel to a large pot. Place the lid on top and heat on medium-high heat. Wait for the kernel to pop.
Once the kernel has popped, add the rest of the kernels, replace the lid, and give the pot a swirl to coat the kernels in the hot oil.
Once the kernels begin to pop rapidly, crack the lid a little bit to allow excess steam to escape. Avoid skin contact with the hot steam as it escapes!
When the popping has slowed to a few seconds between pops, turn off the heat. Wait a few seconds for the last few pops, and then remove from heat.
Transfer popcorn to a bowl and sprinkle with toppings.
Enjoy!
OPTIONAL TOPPINGS:
 Chili Lime Popcorn: 2 teaspoons of chili powder and lime juice
  Parmesan Rosemary: 1 tablespoon dried rosemary, 2 tablespoons
  Parmesan cheese
SOURCE
allrecipes.com/recipe/241449/coconut-oil-popcorn/
Recipe modified by CHOICES Nutrition Education Program
Download the Recipe/Descargue la receta: