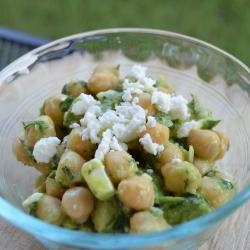 Ingredients
1 15-oz. cans chickpeas (garbanzo) drained
¼ cup fresh parsley, finely chopped
3 cloves garlic, minced
Half a cucumber, peeled, quartered and chopped
1 avocado, pitted, and chopped
2 green onions
1/3 cup feta cheese
1/8 cup extra virgin olive oil
¼ tsp salt
¼ tsp pepper
Fresh Lemon juice from 2 lemons
1 tbsp. honey
PREPARATION
In a medium bowl, mix chickpeas, garlic and lemon juice.
Prepare the vinaigrette (mix together 1/8 cup extra virgin olive oil, ¼ tsp salt, ¼ tsp pepper, Fresh Lemon juice from 2 lemons and 1 tbsp. honey) 
Add the vinaigrette and parsley to the ingredients in the bowl. Mix together, cover, chill and serve.
NUTRITIONAL INFORMATION PER SERVING
Calories 190, Total Fat 12g, Saturated Fat 2.0g, Carbohydrates  15g, Fiber  6g, Protein  6g, Sodium  310mg, Cholesterol  0mg
SOURCE (OR ADAPTED FROM)
twopeasandtheirpod.com/chickpea-avocado-feta-salad/
Recipe modified by CHOICES Nutrition Education Program
Download the Recipe/Descargue la receta: