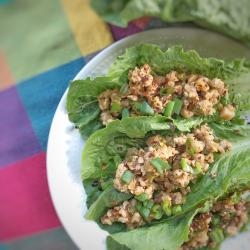 Ingredients
1 pound ground chicken breast
1 tablespoons sesame oil
½ diced onion (about 1 cup)
1 green bell pepper (about 1.5 cup)
1 can (8 ounces) water chestnuts (minced and rinsed)
½ teaspoon ground black pepper
1 head of romaine lettuce or lettuce of choice
1 tablespoon soy sauce (reduced sodium)
1 tablespoon hoisin sauce
2 tablespoon rice vinegar
1 tablespoon peanut butter (melted)
1 tablespoons honey
1 teaspoon sesame oil
2 teaspoons sriracha sauce
½ teaspoon garlic powder
¼ teaspoon ground ginger
Toppings
Optional: peanuts, green onions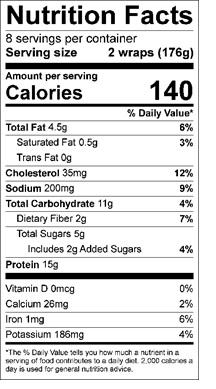 PREPARATION
In a microwave-safe bowl or jar, heat the peanut butter for 30 seconds in order to melt it. Add the sauce ingredients and combine.
Heat 1 tablespoon of sesame oil in a pan. Once hot, add ground chicken.
Cook until some pieces are starting to brown. Add onion and cook for 5 minutes or until the onion is becoming translucent.
Add the peppers and water chestnuts and cook about 5 minutes or until peppers are soft.
Add sauce mix and cook on low heat until the chicken and veggies are evenly coated and everything is heated through.
Serve in lettuce leaves. You can also serve on top of your favorite Asian salad, over noodles or rice!
SOURCE
https://joyfoodsunshine.com
Recipe modified by CHOICES Nutrition Education Program
Download the Recipe/Descargue la receta: