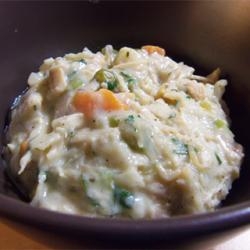 Ingredients
1 tbsp. canola oil
1 cup diced onion
1 cup diced celery
2 tbsp. of canola oil
6 tbsp. of all-purpose flour or whole wheat flour
3 cups of low sodium chicken broth
1 cup fat-free or low-fat milk
1 cup carrot and peas frozen mix
25ox. canned chicken breast, shredded
1 bay leaf
½ tsp. of celery salt
¼ tsp. of thyme
½ tsp. of black pepper
5 corn or whole wheat flour tortillas cut into 1 inch pieces
2-3 tbsp. of chopped fresh parsley
PREPARATION
Heat 5 quart pot/Dutch oven to medium high heat and add 1 tbsp. of canola oil. Add onion and celery and sauté for 3 minutes.
Push the celery and onion to the side to make the roux. Add 2 tbsp. of canola oil to the pot and let heat. Sprinkle the 6 tbsp. of the flour over the oil and lightly brown. Slowly add and whisk all of the liquid to the pot until the broth thickens, about 10 minutes, making sure to breakdown all of the flour.
Add the carrots and peas, shredded chicken, bay leaf and mix well.
Season with ½ tsp. of celery salt, ¼ tsp. of thyme and ½ tsp. of black pepper.
Slowly add the 1-inch pieces of tortillas. Lower heat to medium low and let simmer for 10 minutes.
Remove from heat and finish off with the chopped fresh parsley. 
NUTRITIONAL INFORMATION PER SERVING
Calories 350, Total Fat 14g, Carbohydrates 25g, Fiber 3g, Protein 33g, Sodium 480mg, Cholesterol 80mg
SOURCE (OR ADAPTED FROM)
food.com/recipe/weight-watchers-chicken-dumplings-made-with-tortillas-350800 and   southernfood.about.com/od/ingredientsubstitutions/r/bl90911a4.htm
Recipe modified by CHOICES Nutrition Education Program
Download the Recipe/Descargue la receta: