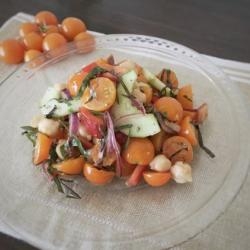 Ingredients
2 pints cherry tomatoes (halved)
2 cups cucumbers (seeded, halved, and sliced)
1 bell pepper (diced)
½ red onion, thinly sliced (about 1 cup)
1 can chickpeas, 15 oz. (drained and rinsed)
¼ cup olive oil
2 tablespoons red wine vinegar
1 teaspoon Dijon mustard
1 teaspoon salt
1 teaspoon pepper
1 teaspoon dried oregano
1 cup basil (chiffonade)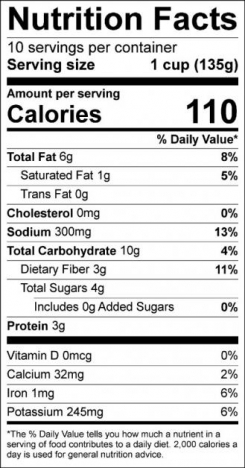 PREPARATION
1. Place the cherry tomatoes, cucumbers, bell pepper, chickpeas, and red onions in a large bowl.
2. In a small bowl, whisk together the red wine vinegar, Dijon mustard, salt, pepper, and dried oregano.  Add olive oil last, and slowly drizzle into mixture while whisking.
3. Add the dressing and basil to the large bowl, mix well and serve.  Adjust salt to taste.
ADAPTED FROM
www.dinneratthezoo.com
Recipe modified by CHOICES Nutrition Education Program
Download the Recipe/Descargue la receta: