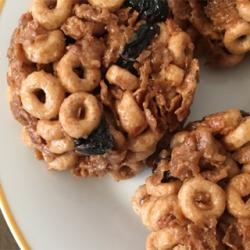 Ingredients
1/3 cup smooth nut butter (like sun butter, peanut butter or almond butter)
1/3 cup honey
2 cups whole-grain cereal flakes
2 cups toasted oat cereal
2 tablespoons dried cherries (unsweetened), chopped
PREPARATION
Coat a cupcake pan with cooking spray. In a medium microwave-safe bowl, microwave the peanut butter and honey on high for 30 seconds, then stir until blended.
In a large microwave-safe bowl, combine cereal flakes, toasted oats and cherries. Microwave on high for 1 ½ minutes, stirring every 30 seconds, until warmed.
Gradually stir the peanut butter mixture into the cereal until thoroughly and evenly coated and combine. Press into the prepared cupcake pan. Refrigerate until set and firm.
NUTRITIONAL INFORMATION PER SERVING
Calories 130, Total Fat 4g, Carbohydrates 22g, Fiber 2g, Protein 3g, Sodium 90mg, Cholesterol 0mg.
SOURCE (OR ADAPTED FROM)
health.com/health/recipe/0,,50400000126378,00.html
Recipe modified by CHOICES Nutrition Education Program
Download the Recipe/Descargue la receta: