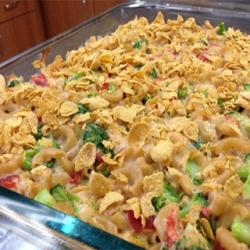 Ingredients
2 cups whole wheat macaroni noodles
2 tablespoons olive oil
2 tablespoons all-purpose flour
1.5 cups 2% milk
1.5 cups fat free shredded cheddar cheese
¼ teaspoon salt
¼ teaspoon ground black pepper
10-oz canned chicken, drained and separated
1 head fresh broccoli, chopped into bite-sized pieces
1 14.5-oz can diced tomatoes, no salt added
½ cup crushed cornflakes
PREPARATION
Preheat oven to 350˚F and grease a 9-by 13-inch baking pan.
In a large sauce pan of boiling water, cook macaroni according to package directions. During the last two minutes of cooking, add the chopped broccoli and cook for remaining two minutes. Drain broccoli and pasta. Set aside in a bowl to cool, making sure to mix once to ensure pasta does not stick together.
In your large sauce pan over moderate heat, add olive oil. Then add flour and stir for 1 minute. Gradually whisk in the milk and cook, whisking until hot and thick. Add the cheddar cheese, salt and pepper whisking to combine. Remove from heat and add the noodles, stirring well to combine. Stir in chicken and tomatoes.
Transfer the noodle mixture to the greased pan. Cover the mixture with the crushed cornflakes Bake uncovered until bubbly, about 20 minutes and serve.
NUTRITIONAL INFORMATION PER SERVING
Calories 251, Total Fat 6g, Carbohydrates 29g, Fiber 4g, Protein 23g, Sodium 403mg, Cholesterol 23mg, Calcium 277mg
SOURCE (OR ADAPTED FROM)
Healthy Lunch Time Challenge Cookbook (letsmove.gov)
Recipe modified by CHOICES Nutrition Education Program
Download the Recipe/Descargue la receta: