Serving Size
1/2 of recipe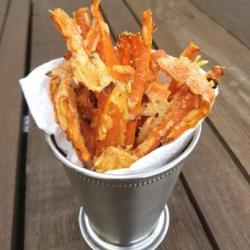 Ingredients
2 large carrots
1 large egg
2 tablespoons water
6 tablespoons finely shredded Parmesan cheese
1/4 teaspoon pepper
4 tablespoons plain nonfat Greek yogurt
2 teaspoons hot chili sauce
PREPARATION
Preheat the oven to 400° F. Line a baking tray with parchment paper or a non-stick silicone mat.
Slice the carrots into long, thin pieces.
Mix the egg and water and place in a shallow dish. Place the parmesan into another shallow dish.
Dip the carrot sticks in the egg wash first, and allow any excess to drip off. Then roll sticks in the parmesan and place on the baking tray. Repeat until you have used all the carrots.
Sprinkle with pepper and place in the oven for 15 minutes, turning once after 10 minutes.
Mix together Greek yogurt and chili sauce in a small bowl.
Take the fries out of the oven, place on a plate, and sprinkle with parsley. Serve with the chili yogurt dip.
ADAPTED FROM
kitchensanctuary.com
Recipe modified by CHOICES Nutrition Education Program
Download the Recipe/Descargue la receta: