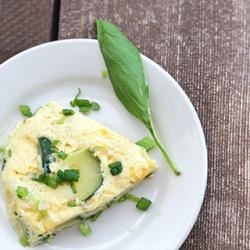 Ingredients
1 medium zucchini, sliced into thin disks
1/2 cup shredded mozzarella or cheddar low-fat cheese
2 scallions finely sliced
4 eggs
1/2 cup evaporated fat-free (skim) milk
Pinch of salt and pepper
PREPARATION
Place zucchini in a small microwave-safe banking dish and cook on HIGH for 2 minutes, or until zucchini is slightly soft and bright green.
Sprinkle cheese and scallions over zucchini.
Crack eggs into large bowl and add the milk, salt and pepper. Whisk mixture until well blended.
Pour egg mixture over vegetables and cheese and microwave on HIGH for 4 minutes.
Take out mixture and stir. Microwave again on HIGH for 7-8 minutes or until center is firm.
Let stand for 5 minutes before serving. Divide into six equal pieces.
Enjoy! 
ADAPTED FROM
https://www.childrenshealthfund.org/wp-content/uploads/2016/10/microwavecookbook_v22_facing_optimized-2.pdf
Recipe modified by CHOICES Nutrition Education Program
NUTRITION FACTS
Download the Recipe/Descargue la receta: