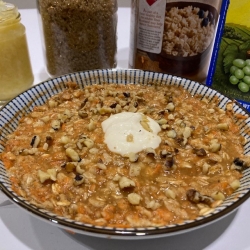 Ingredients
½ cup olds fashion oats
1 cup water
¼ cup carrots, grated
1/8 teaspoon salt
1/2 teaspoon of vanilla
1 ½ teaspoon of brown sugar
1 tablespoon of walnuts
Toppings
Optional Toppings for added sweetness add 1 teaspoon of:
raisins
crushed pineapple
maple syrup
unsweetened coconut flakes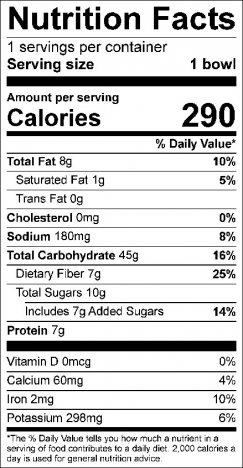 PREPARATION
In a microwave-safe bowl combine oats, water or milk, grated carrots, and salt. Microwave for 1.5- 2 minutes, stir the oatmeal a few times as it cooks to prevent overflow.
Remove oatmeal from the microwave with oven mitts. Stir in vanilla, cinnamon, brown sugar. Top with walnuts and enjoy.
Download the Recipe/Descargue la receta: